Regular price
$984.99 USD
Regular price
$1,150.00 USD
Sale price
$984.99 USD
Unit price
per
Sale
Sold out
What comes with it?
OGO™ Origin Toilet
Manual
5' of Vent Hose with hose ends
Spray Bottle
Bottle Cap
Mount Screws
Power Cable (for install to 12V systems only, not 110V)
OGO™ Origin's composting toilet solution was engineered for the best functional use possible. Whether you are boon-docking for long periods or you have a weekend camping trip in your RV, the OGO™ composting toilet would be a perfect fit for you.
The OGO™ Origin works by diverting urine away from solids waste using our patented trap door system. OGO™'s electric agitator "flushes" after every solids use with the push of a button and our urine sensor indicates when you need to empty the bottle.
Sleek Design & Small Size
---
The OGO™ Composting Toilet is one of the smallest composting toilets on market. We are only 16" side to side, 15" front to back and 18.375" tall. Our unique design allows users to have access to every component from the front or top so it can be slide into cabinets, drawers, and other tight spaces without hindering the use.
It's sleek lines and uniform curved box structure makes it look like it fits into your modern van build or even your newly renovated basement bathroom. We took close consideration to keep as many components recessed and in-line as possible.
Easy to Clean
---
Cleaning, emptying, refilling. The OGO™ Composting Toilet took major consideration in making maintaining easy. The OGO™ Origin has a solids waste bin that is mixed with a medium such as coco coir or spaghnum peat moss. Within seconds, you can dump the solids bin into a bag or compost pile (always check local regulations & laws) for disposal. The urine bottle can easily lift up and out to be dumped in proper disposal locations.
Urine Level Light Indicator & Max Capacity
---
Separating urine and solids waste is the magic of composting toilet but the urine bottle will fill up fast. With a couple using the OGO™ Composting Toilet, the urine bottle could need emptied every two days. This is why we designed our curved bottle to gain as much volume as possible. The OGO™ urine bottle can hold up to 2.4 gallons. We also have a urine level indicator that will illuminate the side button when the urine bottle is almost full.
Share
View full details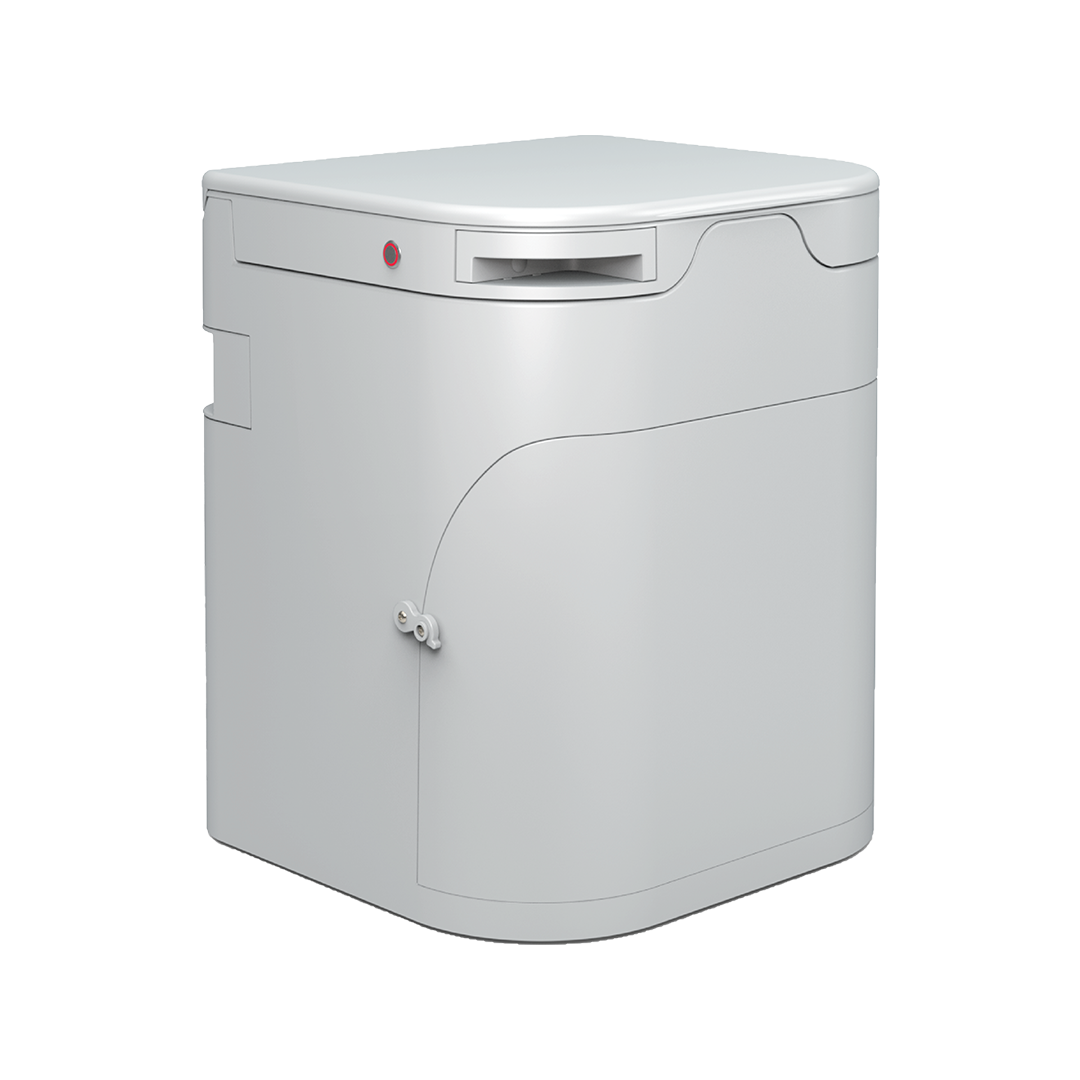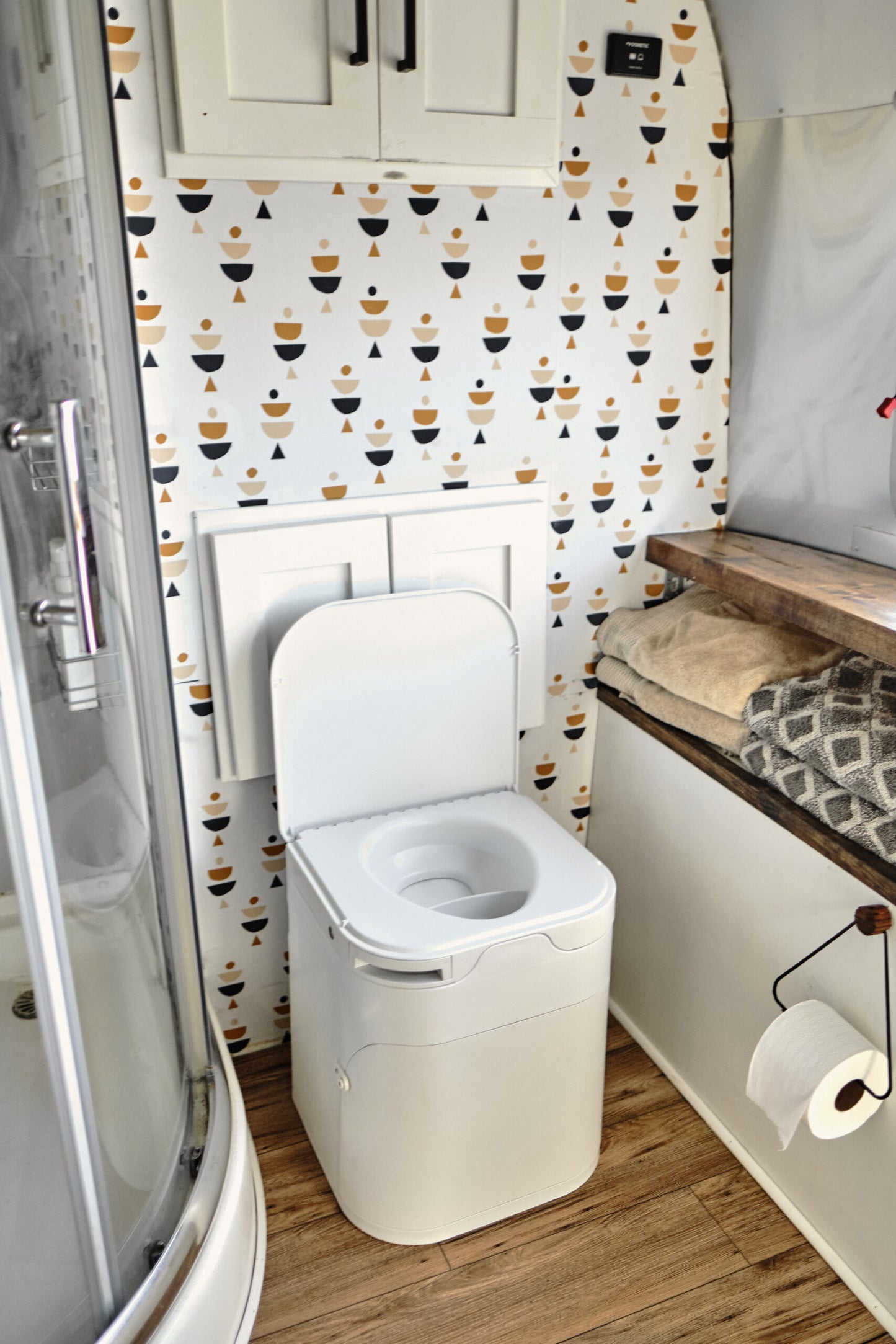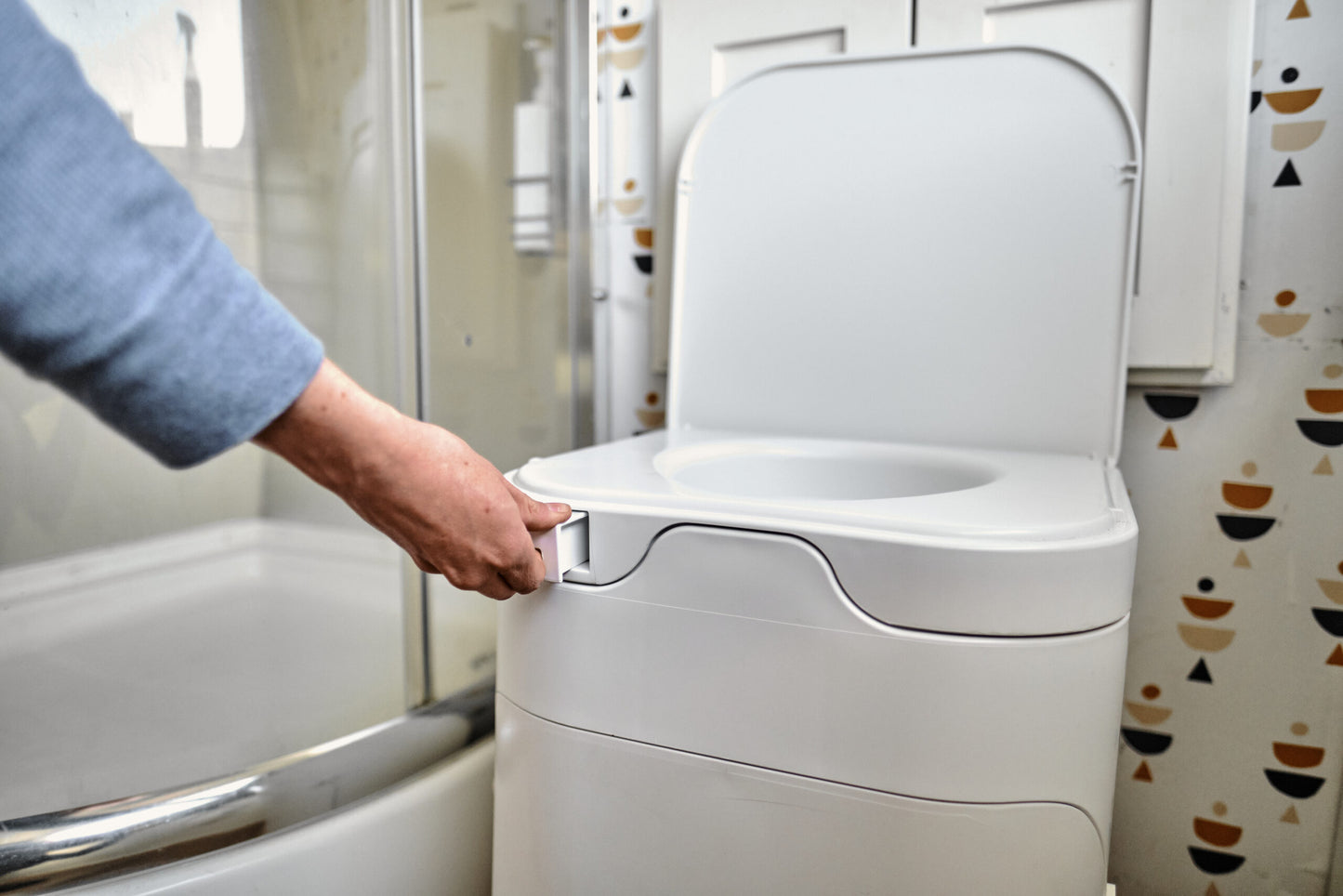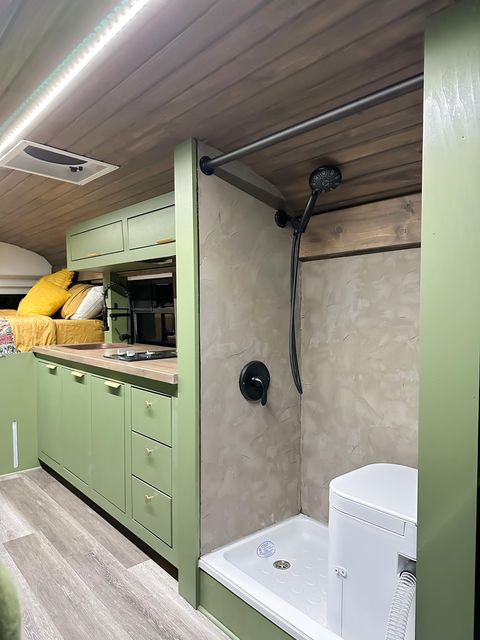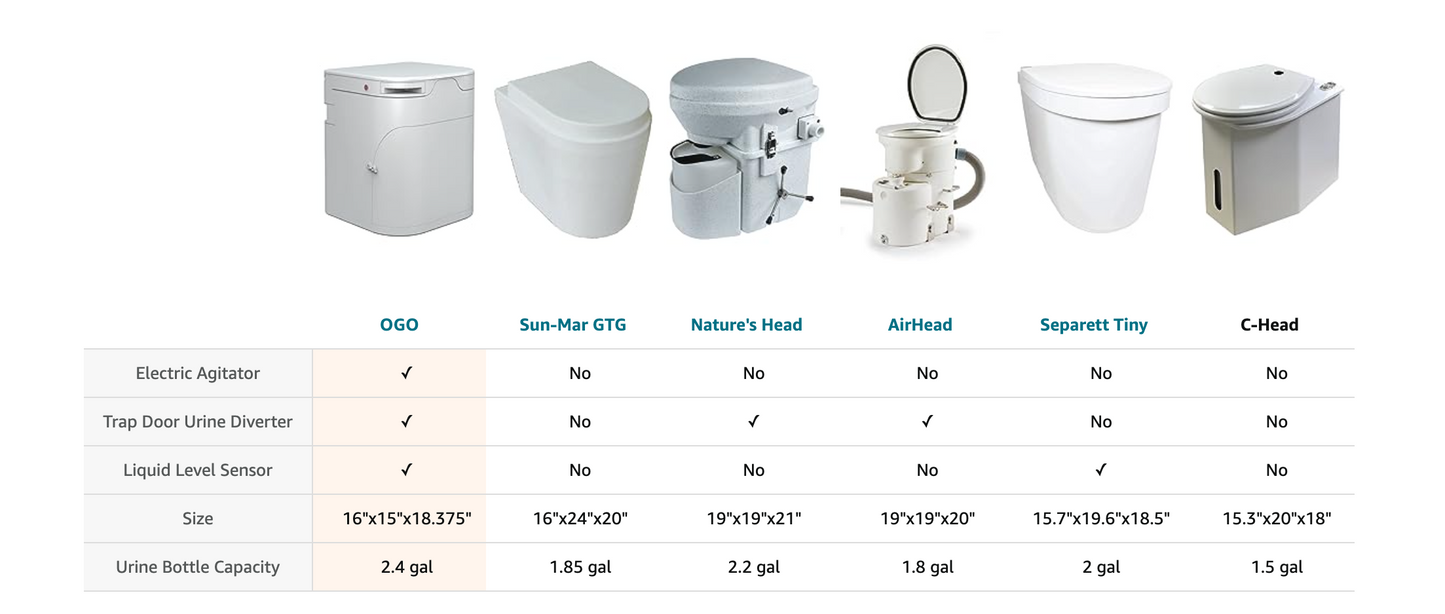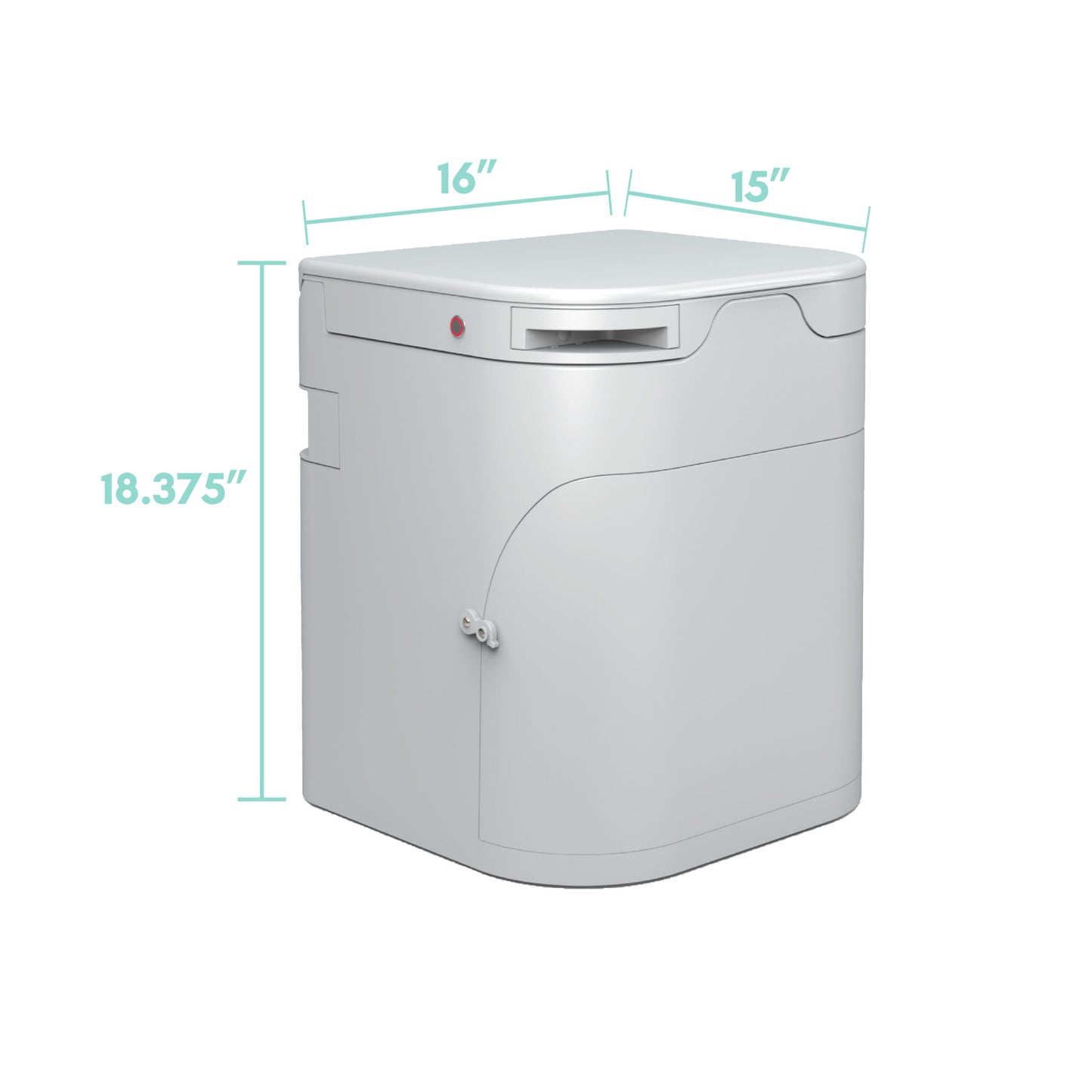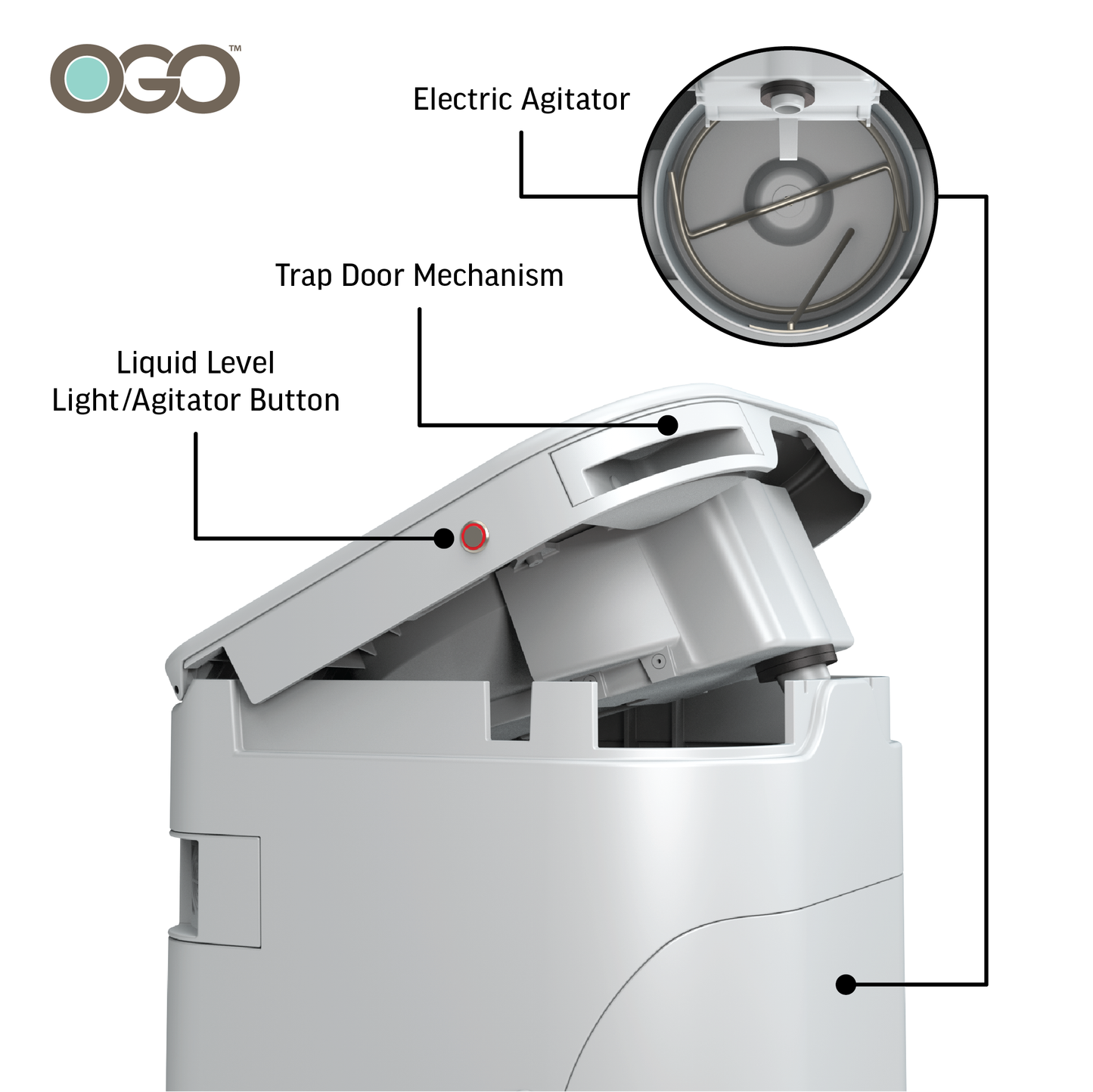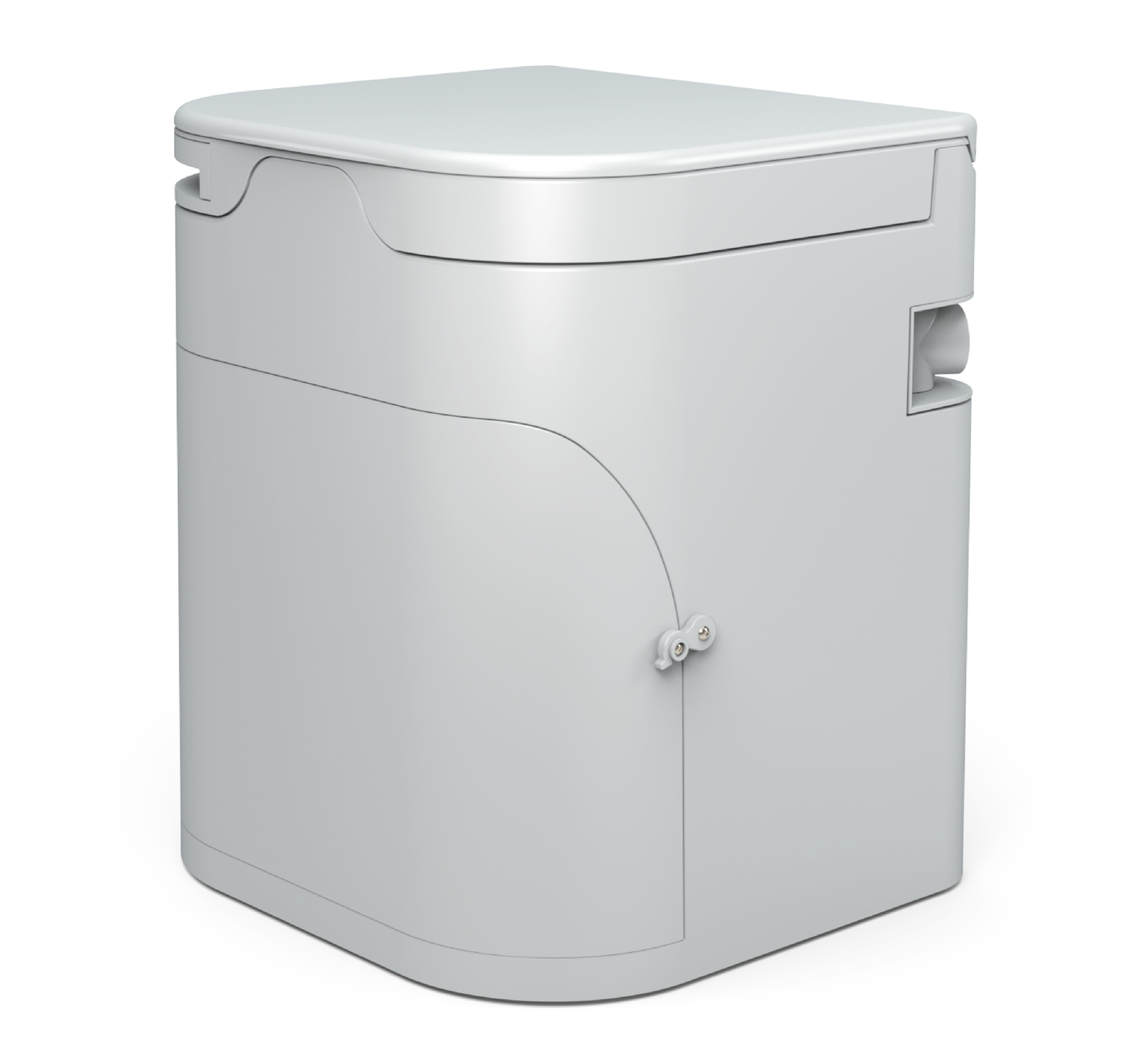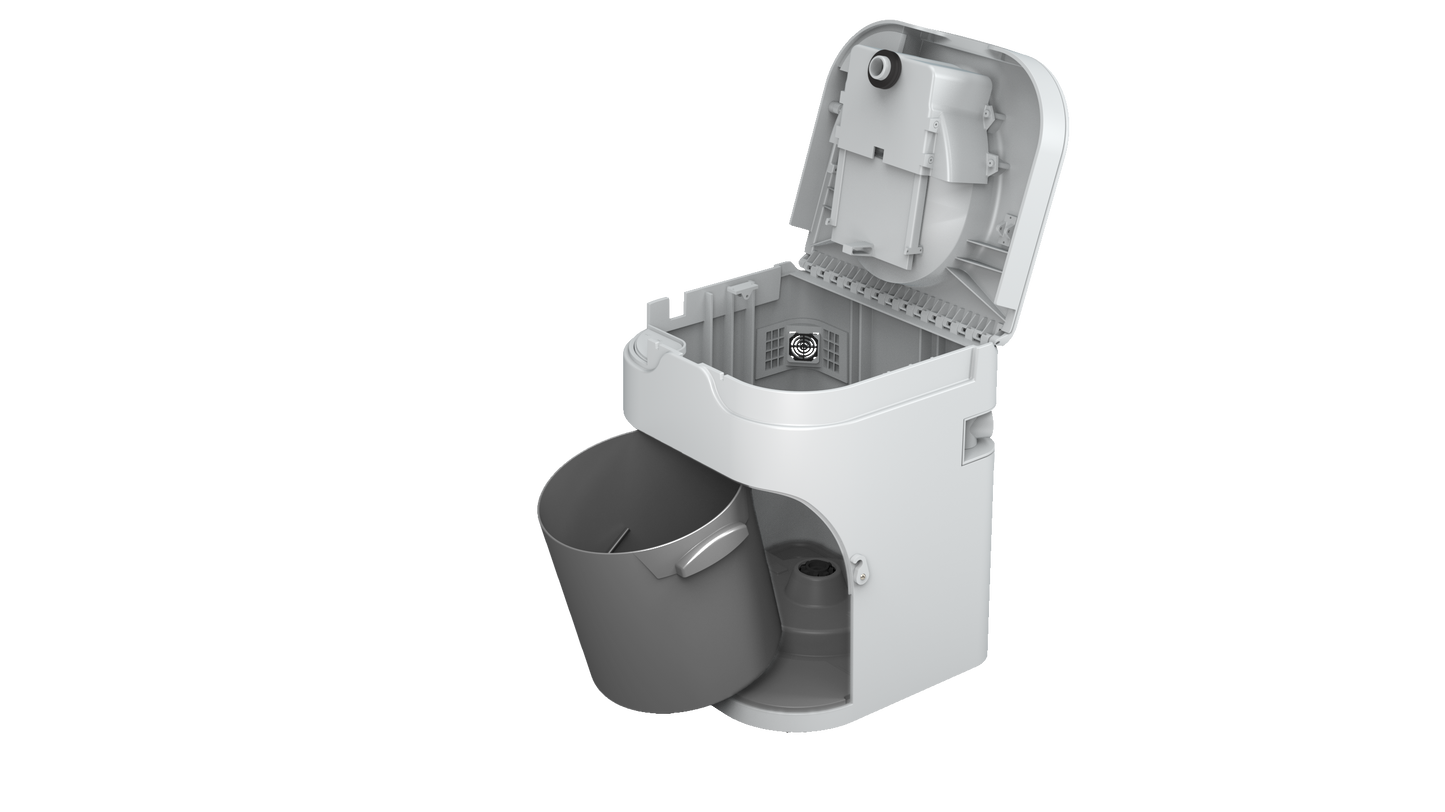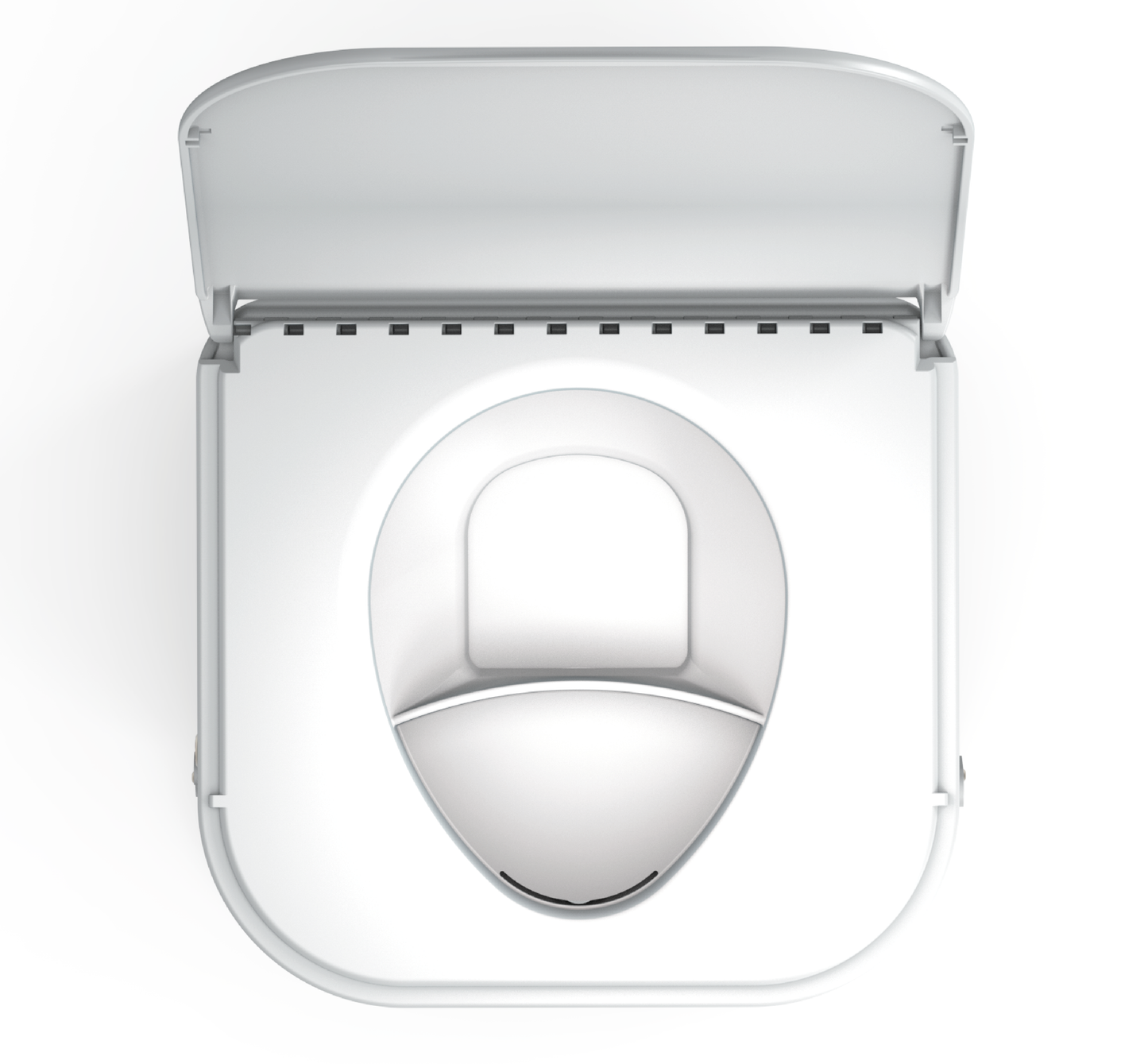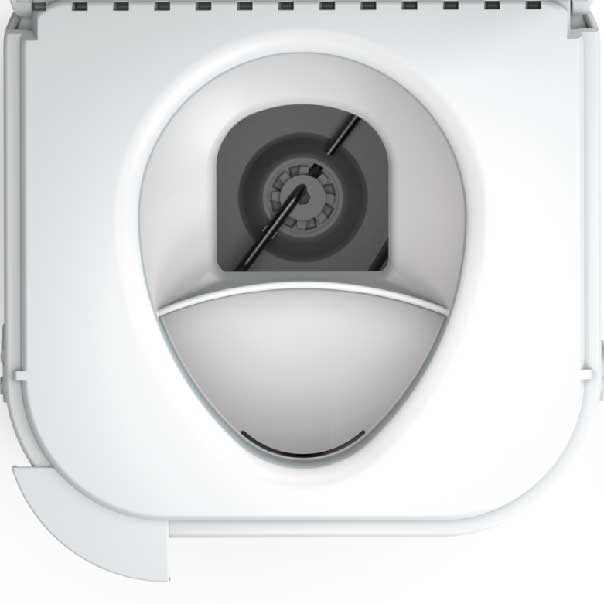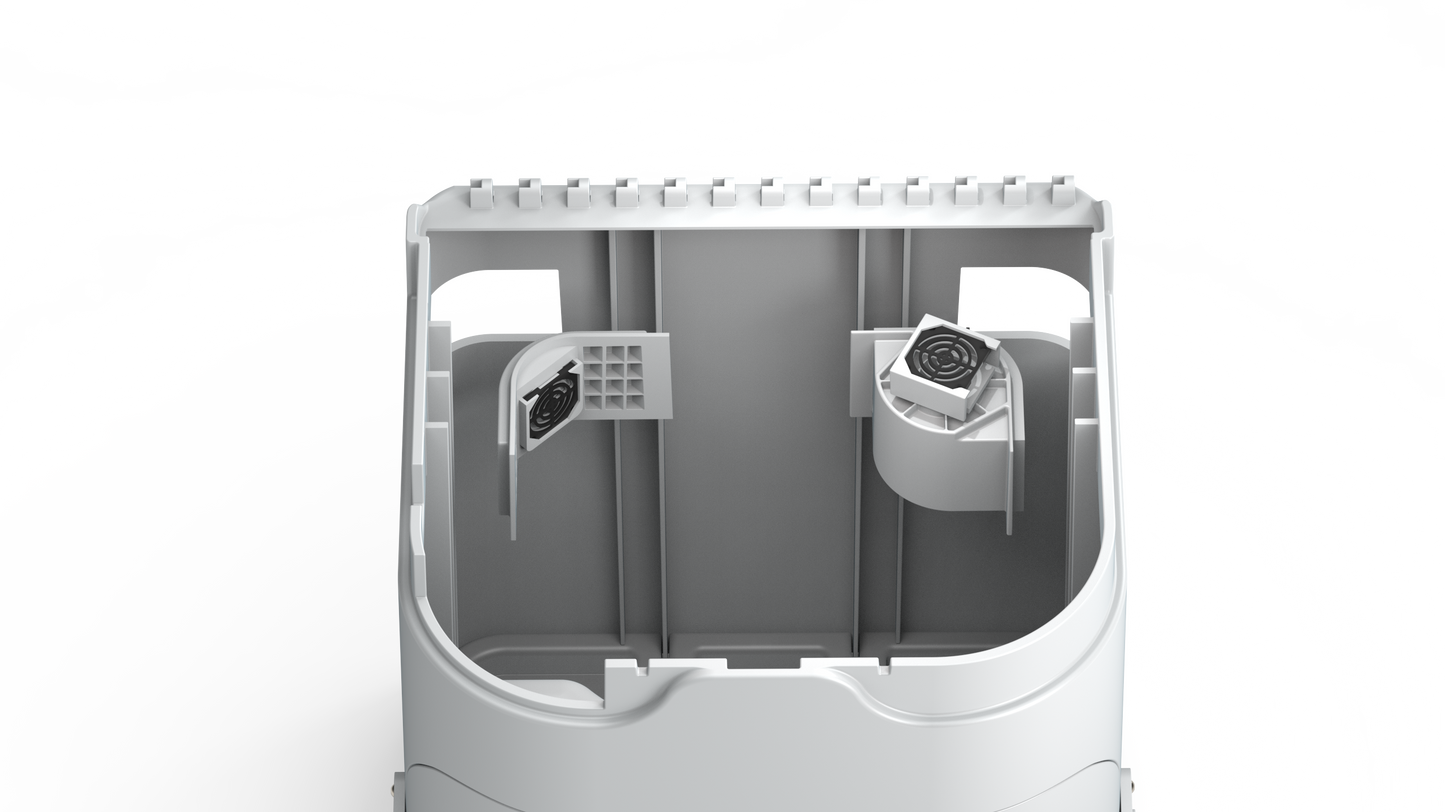 FAQ - Frequently Asked Questions
How do you power the OGO™ Origin?

OGO™ Compost Toilet runs on a 12V DC power system.

The toilet comes with a 22 AWG power cable that can be wired directly to a 12V deep cell cycle battery or directly into your build's 12V system that may be batteries or some sort of inverter.

If you have access to 110/120V AC (a normal wall outlet) then you can use a power adapter like the adapter we sell here. It is a center positive power adapter with 110V AC to 12V DC output and a 10 Amp current rating. The current rating is high with 10 Amps but this is crucial to have enough current supply the motor of the OGO™ Origin which can spike up to 7-8 Amps depending on how full and thick the medium is.
How many uses does the OGO™ solids bin hold?

It hold about 25-30 solids uses depending on the number of people using it and how often. The cubic volume of the entire solids bin is 785 cubic inches. We recommend starting the fill height of medium about 5-6 inches off the bottom of the solids bin which is about 24 oz of coco coir.
How much liquid does the urine bottle hold?

The OGO™ Origin urine bottle holds about 2.4 gallons.
Can I use saw dust?

No, we do not recommend using saw dust, cat litter, or any other medium similar in the OGO™ Origin because it is more "clay-like" and it does not mix well in our agitator. We recommend using coco coir or spaghnum peat moss for your primary medium.
How much power does the OGO™ Origin take?

The average daily draws are noted below for the 12V system.

Fan: 0.48 Ah/day
Motor: 0.6 Ah/day

Assuming: 4-5 uses per day with 1.5-5.5 Amp draw and 45 second cycle.
Where can I empty my urine bottle?

We always recommend to check your local guidelines and recommendations. Some locations allow urine to be dumped outside, some areas recommend to dump in water sources, while others recommend to find a proper sewage location like a public bathroom or dumpstation.
Where can I empty my solids bin?

We always recommend to check your local guidelines and laws.

The best way to dispose of human compost waste (humanure if you will) is to put into a compost bin that will properly compost it for 12-18 months.

Some areas allow human compost waste to be bagged and dumped into the traditional trash.
How quickly do you ship?

We have shipping Monday through Thursday and sometimes Fridays. We ship via UPS Ground which typically has 2-4 business days of shipping. We are almost always stocked with inventory so we will ship the next business day or before 3pm EST.

Reach out to us directly if you need us to ship to a post office or via USPS.
Do you ship to Canada?

Unfortunately, we do not. We have recently partnered with a great distributor in Canada called Cabin Depot. They can ship our OGO™ toilets as well as spare parts. If there are additional questions, we are here to help but Cabin Depot can also answer questions / warranty / etc.
Do you ship to Australia, New Zealand or Europe?

Unfortunately we do not but we do have some amazing distributors that can help support these regions with toilets, accessories, etc.
Do men have to sit while urinating?

Is is recommended that men sit while urinating to assure that all urine is flowing in the right direction. Although if special care is taken, men can urinate while standing but there may be additional splash that will need cleaned up. Be sure to aim in the front separation of the toilet!
My button is always red, what should I do?

If the rest of the toilet is working properly, then it sounds like the urine sensor may be a bit too sensitive. The sensor is a capacitive sensor which means that it is looking for something capacitive (such as urine, water, metal,etc) in front of it. The sensor signals the button led to be on (red) when the urine level is in front of it. The button led should not be illuminated if the drawer and bottle are removed or if the liquid level is below the sensor.

Here is a troubleshoot guide of how to dial in the sensitivity.
My motor is labored and barely turning, what should I do?

If the motor is labored without anything in the solids bin bucket, then something may be choking the current flow. Older models had a PTC fuse in them that may need to be removed and updated or a timer may have failed for some reason. Either way, reach out to us at support@ogotoilet.com and we will get you back up and running in no time.
Do I need to vent out the OGO™ Origin?

The OGO™ Origin is recommended to have venting externally. There is a small fan installed in the back right corner (by the power input) to push air outward. This fan is extremely quiet but it's purpose is to remove excess moisture and any slight odor from the unit. Compost medium can get warm and create condensation internally or solids waste may have excess moisture that is not ideal for the medium mixture. This fan is here to help regulate the moisture level.

Venting the fan externally with the provided hose is ideal to push all moisture and odor out of your bathroom. The hose end fits around an 1-1/4" PVC pipe and can be plumbed to an existing vent stack, an OGO™ Shell Vent, or any other existed vent.

If you are careful to use the toilet properly and are not settled in a high humid location, then you may not need to vent externally rather you can use OGO™ Charcoal Filters to push the air / odor through the filters. Keep in mind that these charcoal filters could get too moist and need to be changed more often in certain situations.
Can I plumb the toilet directly to my black tank?

We try to think of everything here at OGO™ so we have you covered. We sell a drain kit that fits the OGO™ Origin perfectly. It is meant to replace the urine bottle so you do not have to empty a bottle every other day.

It has a coupling that acts as a the bottle neck and plumbs into a 3/4" PVC pipe (provided) which mates into a custom flange. In the bottom of the OGO™ Origin plate underneath the bottle, there is a circular recess that can be cut out and have this flange placed into it. The flange is then screwed into our base cone insert for a secure fit. Underneath the flange, an additional 3/4" PVC pipe can be installed underneath and lastly plumbed to whatever needs you may have.

If you plan to plumb into your black tank, keep in mind that it would hold a significant amount of urine which will be introduce more smells overtime and force you to use a dump-station to empty.
Does the OGO™ Smell?

No, the OGO™ Origin toilet should not smell.

The key to compost toilets is to divert urine away from solids waste. This prevents the "sludge" waste of chemical toilets and traditional RV toilets.

In proper use, the solids waste will fall into a medium such as coco coir or spaghnum peat moss and mix together. This covers the waste and keeps it a dryer level. The medium can be beneficial to be slightly moist which can help break down waste and toilet paper but too wet will make the medium sludgy, difficult to mix, and emit an earthy smell. The urine will likely have the most smell but if you empty the bottle frequently and keep it as clean as you can, it should not have any urine smell beyond the inside of the toilet.
How can I clean the OGO™ Toilet?

The OGO™ Origin is a mostly plastic and stainless steel toilet. It can be cleaned with traditional cleaning supplies like soap, Klorax wipes, etc. There are of course environmentally friendly options available as well.

The urine bottle specifically is a HDPE plastic bottle. Urine can result in scaling on the inside of the bottle over time but this can be cleaned with Dawn dish soap and hot water or Lemi-Shine Dish Detergent and hot water.
Where do you ship from?

We manufacture and ship nearly everything in the Northwest region of Ohio.
What happens if the motor fails?

If the motor fails, we recommend that people contact us immediately for a warranty replacement if applicable or purchase a new one and then resort to the "layering method".

The layering method is where an initial amount of medium is placed in the solids bin and after each solids use, a small amount of medium is scooped and layered overtop of the waste. Although not as convenient, it will still result in no smell and a functioning toilet for use.
Why is OGO™ Origin different than competitors?

Our competitors range in features but here are a few that we have and some or most competitors do not have.

Modern Style / Design
Small Form and Fit
Complete Urine Trap Door System
Electric Agitator System
2.4 Gallon Urine Bottle
Easy to Empty Solids Bin
U.S. Engineered, Manufactured, Shipped, and Customer Service